" The world in which I now move is a deliberate human perversion of nature's beauty. I cannot forget this. I must accept this. I have accepted this." - The Last One
The Last One by Alexandra Oliva starts as a peek behind the scenes of a new TV show about strangers dropped into the woods. The competitors on the show complete various challenges, unless they decide they can no longer compete - in which case they can say '
ad tenebras dedi
' or "
I surrender to the dark
" and quit the show immediately. The main character of "The Last One", "Zoo" (her nickname on the show because she worked at a zoo) refuses to quit the show no matter how dire her situation. As the reader, you know much more than Zoo does about her own situation. You knows that there is a virus wrecking havoc, you know that the show proubably isn't going on anymore, and that Zoo is in real danger.
What I Liked
"The Last One' pulled me in immediately with it's fast paced set up - I didn't feel like there was much of a lull in the book, but it reach can't put down status about half way through. I am terrified of germs so the beginning premise of this book, um terrifying. BUT INTRIGUING. Because that is how terrifying works when you are not actually experiencing the scary thing, but just living it vicariously while sitting on your couch sipping a Dr. Pepper and squirting Purell on *everything*.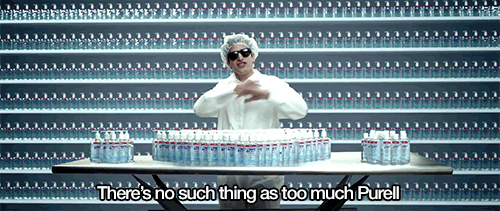 I love that the main character is a woman in her early thirties who is happily married and about to start a family. The show is an opportunity for her to have one last adventure before she starts her role as a mother. As a woman, who is also now in her thirties ( grumble), I found her very easy to relate to and understand. And even though I knew that the show was likely over seeing as how there was a viral apocalypse- against all reason I didn't want her to give up either! You go girl!
This book combines two things that are very pop right now - it's like The Walking Dead, apocalypse, meets Hunger Games. It was neat to watch these two worlds collide, as if competing for your life wasn't enough, lets add a viral apocalypse. Alexandra Olivia does an excellent job setting the scene though to take this ridiculous set of circumstances and make them, i not plausible, at least worth suspending disbelief for the enjoyment. There were also more comical moments than I anticipated- but there is definitely an absurd humor in the disconnect between what she thinks is happening and what is actually happening- Zoo is living in a postapocalpyse and the TV show competition she believes she is competing in is likely over.
What I Didn't Like -
The set up was initially a little exhausting. As a reader, you are frequently reminded that there is more to the story - the story being told didn't start when we opened the book and there is more going on than meets the eye, but let us figure it out a little bit! The narrative is also frequently a play by play of what is happening behind the scenes of the television show Zoo is competing on- and while it was neat at first, again- it kind of got old after a while. But the parts of the book that were not narrated that way were *excellent* Alexandra Olivia is an incredibly talented writing and I will definitely be reading her future work.
Why You Should Read It -
This book is definitely different than any book I have read recently. The narrative and situations the main character is put into is like Wild by Cheryl Strayed means Hunger Games by Suzanne Collins. It was great to read a book about a woman who felt relateable as far as where she is in her life. If you enjoy stories about the wilderness, survival, and relationships - I recommend this one!
Have you read The Last One? Let me know what you thought! Thinking about reading it? Click below to find a copy at your local library or visit the book on Amazon by clicking my affiliate link!
Many thanks to Ballantine Books - Random House Publishing for giving me an advanced copy of this book.
While the book was free, as a girl who is all about the library ( when books are always "free") - know that all opinions are mine.