Just when I thought I knew everything there is to know about "The Office". Keep reading to learn the five things I learned from "Welcome to Dunder Mifflin" by Brian Baumgartner and Ben Silverman.


Five Things I ( A Die Hard Office Fan) Learned from "Welcome to Dunder Mifflin" by Brian Baumgartner and Ben Silverman
Paul Rudd can suck it -
Yes, yes he doesn't age and he's a national treasure -
but hear me out
, because a reoccurring theme that comes up almost too often when someone from "The Office" talks about the beginning stages of adapting the show is their concern that the OG British version would always be "better" than the American one. Most of the actors, producers, and writers from the show have mentioned that they were either bummed that NBC was even going to try to adapt it in America or that they were really worried about the adaptation being truly awful because the original British version was so unique and wonderful. To be fair, this is totally a valid concern - and ultimately, the worry that each of those producers, actors, and writers felt certainly added to the care and quality that went into the adaptation and made it the show so many people love! BUT even though this is an argument I have heard a thousand times, I was still shocked to hear it so casually from Paul Rudd! In the book, Steve Carell recounts a conversation with Paul Rudd that was just too much for me to overlook.
Steve Carell: I remember, before I auditioned, I was talking to Paul Rudd. I'd never seen the original one and he asked what I was up to. This was right after Anchorman. I told him I was going to audition for the American version of The Office and he said, "Ugh, don't do it. Bad move. I mean, it's never going to be as good." Like what everybody was saying.

Sure, Paul wasn't alone in feeling this way, but it still hurts! Perhaps because it's one of the few times I've heard someone not directly connected to the show take a shot at it or that he was trying to convince Steve to not audition! Reading this conversation between two friends, and just the idea that Steve Carell might've listened to Paul Rudd and potentially not taken the audition and then never been cast as Michael Scott! It gives me that pit in the stomach feeling, even though I know the outcome!
The Office was not well received...like by a long shot

You know that feeling when you really love something and then you meet someone who is either totally uninterested in you favorite thing or even worse, strongly dislikes it!? How mind blowing that is? Because how could you not like this amazing, wonderful, life giving thing that I am obsessed with?! That is very much the story of the beginning of "The Office". Before going into this book, I knew "The Office" wasn't especially popular for it's first few seasons and came close to being cancelled many times, but I had always assumed that it was just having a difficult time gaining traction, not that people watched it and didn't like it! How!? That was definitely the case though!
One of the stories that Kevin Reilly shares is of the pilot being screened for NBC employees, who were asked to score the show from 1-10.
Kevin Reilly : Every room was giving it a 1 or a .5. Nobody liked it. Except one room.
That's not just not liking "The Office", that's not liking it by a lot. I had no idea and have a hard time wrapping my brain around the idea that it tested so poorly! The one room Kevin mentioned where it did do well was with a much younger audience who worked as assistants and associate NBC employees.
Another moment from the book that was enlightening was Greg Daniels thoughts about an issue they had promoting the show that made a lot of sense

Greg Daniels : So they took single lines out of context and that was the first ad. Out of context, none of the lines played like jokes. We didn't do set up-punch line jokes. It was all behavior and context and acting. It was horrifying. You'd look at these ads and go, "Oh my God, we have the stupidest, most unfunny show in the world"...look the frame has to be different. You have to blow up one moment and let it play. Otherwise we're doomed because it isn't a highlight reel.
The Office not playing well as a high light reel, with its unique sense of humor is such a huge part of why it is my favorite show. So it was so interesting to hear that that is also what made it incredibly difficult to market and find an audience. How do you share about an upcoming episode when there aren't small moments you can easily pull for a joke?



Greg Daniels is a bad ass
Through listening to Angela and Jenna's podcast, Office Ladies, I've gained a deep appreciation for Greg Daniels and his leadership skills. Reading "Welcome to Dunder Mifflin" I learned something new about his time running "The Office" that I had not heard before. At the beginning of season 4 there was a writers strike. This book does an awesome job explaining why they needed to strike and how it was settled, but what really grabbed my attention was a story about Greg Daniels. During the writers strike, members of the crew were not able to work. They could not shoot the show and as a consequences many members of the crew were not getting paid. Laverne Caracuzzi-Milazzo, a member of the makeup and hair team, spoke about Greg gaving members of the crew checks for $1000 while they were unable to work. That fact that he sent them money from his personal checking account truly blows me away. I know that this is just one moment from a decade of work, but still - what a guy! Also there are so many other stories from the show about what a thoughtful and kind leader Greg Daniels is - definitely deserving of "The Best Boss Ever" mug.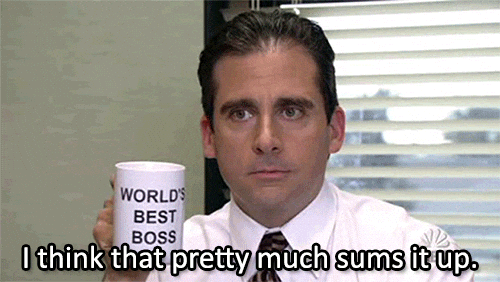 So many things on the show almost weren't
One of my favorite parts about seeing behind the scenes of "The Office" are the different versions of icon moments. So many important scenes from the show, especially those with Jim and Pam, were either shot completely differently or were without audio in the original drafts. The biggest shock to me was how late in the game they were making these crucial changes. For example, the scene where Jim proposes to Pam was shot with and without audio. Greg went back and forth for months and ultimately decided to go with the without audio version until the morning the show was set to air!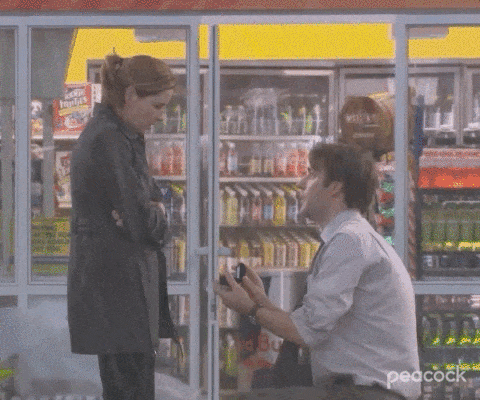 The level of thought and care that went into each episode blows me away
After reading this book, my eyes are really opened to just how undeniably smart and thoughtful the writers and cast of "The Office"are. One moment I took for granted but learned more about in Brian's book was Steve Carell's exit from the show. In his final episode, Michael's character decides to lie about what day is actually his last and in the book, Steve Carell talks through what a huge character development statement this was from him and the writers.

Steve Carell : But on his last day,, I thought there should be a party planned, but Michael should basically trick people into thinking he was leaving the next day. I thought that would be the most elegant representation of his growth as a human being. Michael lives to be celebrated throughout the whole series. That's all he wants. He wants to be the center of attention, and he wants pats on the back. He wants people to think he's funny and charming and all of those things. But the fact that he'd walk away from his big tribute, his big send off and be able in a very personal way say goodbye to each character, that to me felt like it would resonate.
Steve talking about Michael Scott in such a kind of thoughtful way, when his character is so often not that, just warms my heart! I had always read this moment on "The Office' as Michael being sheepish and also just too emotionally invested in workplace family to have a real goodbye. But Steve Carell's explanation added so much depth for me to this ending!
I really enjoyed reading "Welcome to Dunder Mifflin". Have you read this book? What did you think? What have you always wanted to know about 'The Office"? Or, what show do you wish you could get more of a behind the scenes look at? Click below to learn more about the book and thanks for reading, readers!